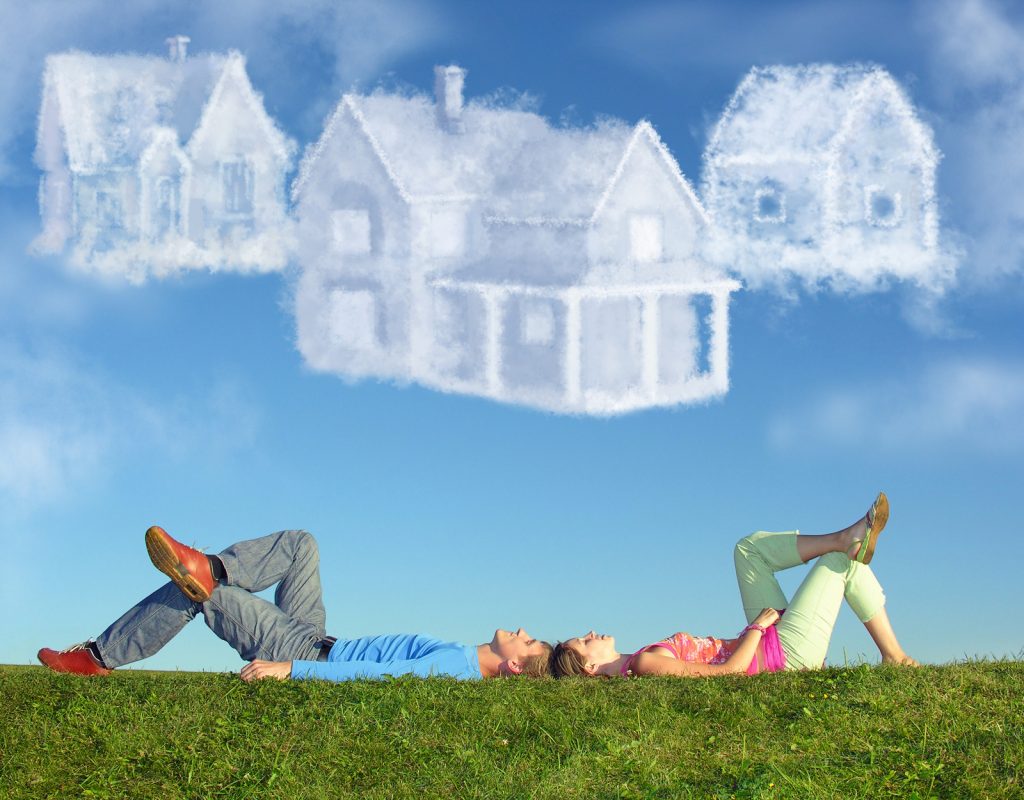 I'm going to take a wild guess here, but I'm thinking that if you're reading this, you've discovered that deciding on the perfect place to live is unearthing some disagreements between you and your partner. Would he really want to live backed-up to a major highway as long as the price is right? And since when does curb appeal mean absolutely nothing to him?
Uh, "Houston, I think we have a problem".
When it comes to house hunting, there's nothing more frustrating and disappointing then discovering that what you want isn't what your partner wants. It's time consuming, expensive and it creates a divide within your relationship at a time when you need to be the most together.
So, just how do you know if you and your partner aren't on the same page?
My suggestion is this – Before you get in that car with your realtor, do him and yourselves a favor and make a list of your priorities. Keep it short. I'd say 5 or 6 items is plenty. Then put them in order from the most important at the top to the least important at the bottom. Remember, nothing is written in stone.
Then answer "Why" to everything on your list. That isn't to justify your priorities to someone else. It's for you to know if what you're looking for is real or if it represents something else – something underlying. This is what I refer to as Dialing in on your internal compass. (This is something I talk about in great detail in Module One, of my program How to Land Softly™. Just saying!) Module 1: Relocate
So, you've got your list, your partner has his, get a glass of wine and let the fun begin. Compare it with your partner's. And, if there are things you disagree on, that's more than okay. Now's the time! Congratulate yourself on figuring this out. It means you've done a great job of being honest with yourself and each other. It's real. This is the time to come to an agreement. And remember, negotiation is better than compromise; we're going for a win/win.
Here are a few places to start:
Budget
You've most likely a set-budget for what you can afford to buy or rent. Yet there are variables such as square footage, number of rooms and amenities that can be negotiated. This is an area that should be explored (and we'll get into in more detail below). Which of these is important to you and why? Is it a want or a need?  Sometimes talking these things through can yield insights and understanding.
Aesthetics
These things come at a price and tie into your budget. Some people just like what they like. And others know what they like when they see it. Individual things like having a pool, a fireplace, a doorman, parking, etc. Don't wait until you're out looking at places to reveal to everyone that a master bedroom without a walk-in closet is a deal breaker.
One other tip – while it's important to list these aesthetics and why they're important to you, don't get hung up on them. If you refuse to look at a place just because it doesn't have one feature you want, you'll be limiting yourself and potentially missing out on your perfect home. You may even change your mind later.
Size
This seems like a simple thing, but you'd be surprised at how many times clients consult me and then realize that they are not on the same page about the number of bedrooms, bathrooms, or even square footage they're looking for. Put this on your list and when asking "Why?" think about your life stage such as if you plan on moving again in a few years, if your family is growing, or if you have kids leaving the nest in the near future.
Location
This is a biggie. Whether it's a certain city or a targeted neighborhood, choosing the perfect location is key to a happy life and peaceful existence. It's imperative to understand what's important to both you and your partner when deciding on where you want to live. What can impact your desired location are the answers to questions such as: How far do you want live from work? Is it important to have convenient access to popular places, shops and restaurants? Are schools a factor, etc. Once you find a location you both agree on, stick with that plan. If you do nothing else, choosing your ideal location will save you tons of time and frustration.
To help you with choosing locations, I have put together a series I call Finding Your Best Life™ where I spotlight a major city within the United States. Check it out and see if your city is featured.
Negotiate
Think of this as a business deal. You have things that are important to you and so does he. When you put your priorities in order then you and your partner will see areas of flexibility. It's important that you go in with a win/win expectation. Notice I'm not saying compromise? To me, a compromise is where someone gives in to the demand of the other. Eventually that causes resentment.
Try saying, for example, "If I agree to move further from town to ease your commute, would you be willing to buy a bigger house so that I can have a home office if we stay within $10,000 of our budget? Strike your deal! (This part can actually be fun).
Happily Ever After!
So, you have your list. You're on the same page with your partner. Now is the time to share these things with your realtor. Believe me, knowing what you want, what your partner wants, and why, will make your move so much smoother and give your realtor a great starting point and a way to be creative about solutions.
Was this information helpful to you and your partner? I love to hear your feedback!