"What would you do if you felt empowered and supported to move forward, to begin anew; if you dared to live greatly?"
CPCC (Certified Co-Active Coach)
PCC (Professional Certified Coach, International Coach Federation, ICF)
PROSCI Change Management Certified
Founder, Homeward Bound Relocation, LLC
Discovering what matters to you, what motivates you, or what stops you from succeeding has always been at the heart of my work. My passion is to help you discover what gives you 'traction' whatever direction calls you. I have coached clients through finding purpose and turning their career toward fulfillment; through personal and geographic transition, and coaching leaders who need to excel in a dynamically changing environment.
I am certified by Coaches Training Institute (CTI)—renowned pioneer of the neuroscience-based Co-Active coaching model, affiliated with Harvard's McLean Hospital. Additionally, I'm certified by the only international coaching organization in the world, the International Coaching Federation (ICF).
To read my full professional profile, go to linkedin.com/in/marerosenbaum
To find out what's possible for you, click the button below.
What's the next step in your career? How can you align your work with your most deeply held values to find true purpose?
How do you balance your time between family, friends, personal interests, and work to get the most satisfaction out of life?
Accelerate your career trajectory by learning how to effectively communicate, influence, and connect with a broad range of stakeholders. How are you perceived?
What's holding you back from the success and fulfillment you desire?
Are you leading with your strengths or are you simply reacting and feeling overwhelmed?
Let's take your life or your career to the next level. Click the button below and let's find out.
The Art of Dreaming Small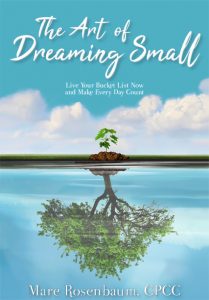 The Art of Dreaming Small follows the true coaching journey of two clients and myself, as I call magic into their lives and my own by finding a new way to make every day extraordinary. My recipe mixes coaching and business innovation methods that result in purpose-driven and fulfilling bucket-list worthy experiences. Ultimately, The Art of Dreaming Small creates a fun, easy, and practical guide to making every day count.
"I have enjoyed this book SO MUCH. I wish I had had it at various times in my life when I was trying to make a change or a decision, or push myself to a new level." — Helen B., 83
"Even though I wasn't even thinking about making a bucket list, I've already gone to the office supply store to buy large pieces of paper because I can't wait to get started on the process of living small, medium, and large right away!" — Lisa Krueger-Gavin
"The Art of Dreaming Small provides a path for introspection that exercises the mind, body and spirit. Rosenbaum applies her own life experience to her prescribed practice and the results are truly inspiring." — Mary Brunet