"What would you do if you felt empowered and supported to move forward, to begin anew; if you dared to live greatly?"
CPCC (Certified Co-Active Coach)
ACC (Certified by the International Coach Federation, ICF)
PROSCI Change Management Certified
Founder, Homeward Bound Relocation, LLC
Discovering what matters to you, what motivates you, or what stops you from succeeding has always been at the heart of my work. My passion is to help you discover what gives you 'traction' whatever direction calls you. I have coached clients through finding purpose and turning their career toward fulfillment; through life-altering health issues, personal and geographic transition, and coaching leaders who need to excel in a dynamically changing environment.
I am certified by Coaches Training Institute (CTI)—renowned pioneer of the neuroscience-based Co-Active coaching model. Additionally, I'm certified by one of the most rigorous international coaching organizations in the world, the International Coaching Federation (ICF). Since 2016, I have served on the Community Advisory Board of the Children's Hospital of Philadelphia (CHOP).
To read my full professional profile, go to linkedin.com/in/marerosenbaum
To find out what's possible for you, click the button below. (It's FREE).
What's the next step in your career? How can you align your work with your most deeply held values to find true purpose?
What's your leadership style, and how will you inspire and motivate your team?
How do you balance your time between family, friends, personal interests, and work to get the most satisfaction out of life?
Accelerate your career trajectory by learning how to effectively communicate, influence, and connect with a broad range of stakeholders. How are you perceived?
What's holding you back from the success and fulfillment you desire?
How do you motivate your team and ignite innovation? Are you leading with your strengths?
Let's take your performance to the next level. Click the button below and let's find out. (It's free.)
Should I move?
Where do I want to live?
How do I help my kids feel at home in a new community?
How do we begin again and feel we belong?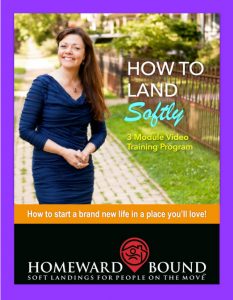 How to Land Softly™ is an easy, fast, and fun online video program based on my premiere executive relocation service. My unique and highly effective method is laid out step-by-step for the fastest way to create your best chapter in life, and know how to ensure a win/win for your partner and family, no matter where you move.