"It is my mission to empower you and support your courageous effort to move forward in life, to begin anew, to reach higher, and dare to live greatly."
CTI (Coaches Training Institute) Certification Program
ICF Member (International Coach Federation)
PROSCI Change Management Certified
Founder, Homeward Bound Relocation, LLC
Discovering what matters to you, what motivates you, or what stops you from succeeding has always been at the heart of my work. My passion is to help you discover what gives you 'traction' whatever direction calls you. I have coached clients through finding their life purpose and expressing that in their career; through life or death health issues; through personal transitions; in addition to coaching leaders in start-ups, small businesses, and non-profits.
Over the past 11 years, I've been entrusted to serve national and international Fortune 500 companies by guiding and supporting their most valuable employees. From the new manager to the C-suite, I coach my clients from their decision to move through their transition to a whole new life.
I'm a graduate of the Coaches Training Institute (CTI)—renowned pioneer of the neuroscience based Co-Active coaching model. I am an active member of the International Coaching Federation and I serve on the Community Advisory Board of the Children's Hospital of Philadelphia (CHOP).
To read my full professional profile, go to linkedin.com/in/marerosenbaum
To find out what's possible for you, click the button below. (It's FREE).
Are you trying to get to the next level in your career?
Perhaps you simply want more out of life than what you've been experiencing.
Click the button below and let's find what moves you toward realizing your dreams. (It's free.)
Should I move?
Where do I want to live and 
how do I help my kids feel at home?
How do we begin again and feel we belong?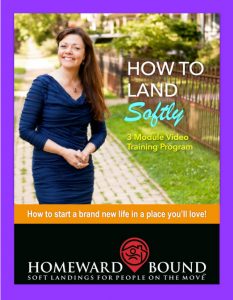 How to Land Softly™ is an easy, fast, and fun online video program based on my premiere executive relocation service. My unique and highly effective method is laid out step-by-step for the fastest way to create your best chapter in life, and know how to ensure a win/win for your partner and family, no matter where you move.