"What would you do if you felt empowered and supported to move forward, to begin anew; if you dared to live greatly?"
CPCC (Certified Co-Active Coach)
ACC (Certified by the International Coach Federation, ICF)
PROSCI Change Management Certified
Personal Coaching
Discovering what matters to you, what motivates you, or what stops you from succeeding is at the heart of my work. What gives you 'traction'? I have coached clients through finding a more fulfilling career in a whole new direction, getting to the next level, geographic transition, and coaching leaders who need to excel in a dynamically changing environment.
When you're transitioning to a new role, your first 90 days is critical. Gain clarity on your vision and how it aligns with organizational strategy; motivate your team, gaining and building trust; increase performance through productive and timely feedback; lead others through constant and chaotic change, and create momentum in these highly visible first days.
If your sites are set on getting to the next level - even in a flat organization - engage more fully with renewed vision and a clear strategy; build your power base of relationships; reduce overwhelm and take control of your future.
As an entrepreneur leading a B2B for 9 years, serving Philadelphia's Fortune 500's at the highest level, I respect your need for an evidence-based, time-sensitive approach.
My Process
We'll begin with several assessments to get a clear picture of which strengths we'll leverage and which you'd like to develop based on where you want to go. Once we've identified measurable outcomes, we'll finalize our development plan that will frame our work together. Midway through the engagement, we'll reflect on progress to be certain that we're on target to meet your goals and lock it in.
The typical coaching engagement can be six months to a year to ensure that new habits have time to "stick" and significant goals can be reached. That said, I offer single sessions, 4-, 8-, and 12-session packages.
About Me
An experienced certified executive coach and facilitator of high-impact planning for both nonprofit and for-profit organizations, I have proven excellence working in multinational, cross-cultural environments. Industries I've served: media, social media, tech, pharma, insurance, mortgage, legal, chemical, start-up, and several nonprofits including arts institutions.
I am certified by Co-Active Training Institute (CTI)—renowned pioneer of the neuroscience-based Co-Active coaching model tested at Harvard's McLean Hospital. Additionally, I'm certified by one of the most rigorous international coaching organizations in the world—the International Coaching Federation (ICF). Since 2016, I have served on the Community Advisory Board of the Children's Hospital of Philadelphia (CHOP).
To read my full professional profile, go to linkedin.com/in/marerosenbaum
To find out what's possible for you, click the button below. (It's FREE).
What's the next step in your career? How can you align your work with your most deeply held values to find true purpose?
What's your leadership style, and how will you inspire and motivate your team?
How do you balance your time between work, family, friends, and personal interests to get the most satisfaction out of life?
How are you perceived? 
How do you motivate your team and ignite innovation? Are you leading with your strengths?
Accelerate your career trajectory by learning how to effectively communicate, influence, and connect with a broad range of stakeholders. 
Let's take your career to the next level, click the button below. (It's free.)
The Art of Dreaming Small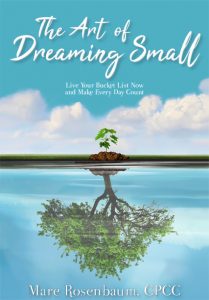 The Art of Dreaming Small follows the true coaching journey of two clients and myself, mixing coaching and business innovation methods that result in purpose-driven and fulfilling bucket-list worthy experiences. Ultimately, The Art of Dreaming Small creates a fun, easy, and practical guide to making every day count.
"The Art of Dreaming Small provides a path for introspection that exercises the mind, body and spirit. Rosenbaum applies her own life experience to her prescribed practice and the results are truly inspiring." — Mary Brunet
"I have enjoyed this book SO MUCH. I wish I had had it at various times in my life when I was trying to make a change or a decision, or push myself to a new level." — Helen B., 83
"Even though I wasn't even thinking about making a bucket list, I've already gone to the office supply store to buy large pieces of paper because I can't wait to get started on the process of living small, medium, and large right away!" — Lisa Krueger-Gavin